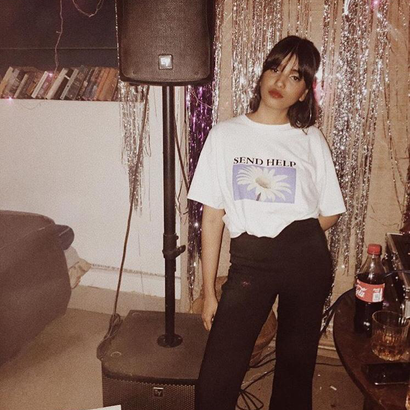 More About This Resident
Roychuu a.k.a Megha Roy is a part-time fashion writer and part-time Pokémon, trying to find purpose in New Delhi. She started off her music journey soundtracking the strange and mundane as weekly playlists under the banner #theweekwithroychuu, exploring nostalgic sound through various eras–with a special focus on dream pop, synthwave and new wave.
She hopes to see a day when line-ups are diverse, dancefloors are safe and 'romantic mixtapes' make a comeback.
Q&A
What I'm Usually Up To:

Snacking, reading my (and my crush's) horoscope and writing things I have no idea about

My Favourite Food:

Very very spicy ramen

On My Bucket List:

Travel everywhere, thrift vintage Prada, party with Grace Jones

My Deserted Island Disc:

Can I get 2? 'Nightclubbing' by Grace Jones and 'You know what it's like' by Carla Dal Forno
Mixes by Roychuu