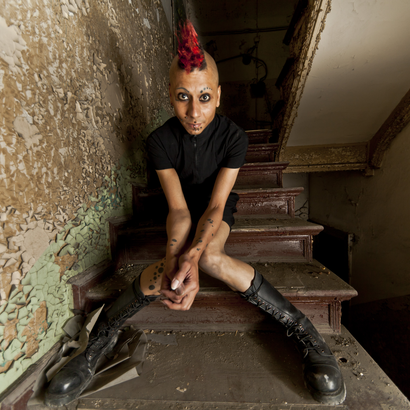 More About This Resident
C-drík (born in Lubumbashi, Zaire/DR Congo) is a Belgian composer, musician, mastering engineer, author, radio host and label manager who operates in the field of noise, electronic and experimental music since 1989. He lives in Berlin (Germany). His main research focuses on electronic, electroacoustic, experimental and noise music from Asia and Africa. His compositions and installations vary from sound art and soundscapes made of found sounds and objects to more conventional "dance" music to radio projects. He studied electroacoustic music at the Conservatory of Mons, Belgium and wrote several essays about electroacoustic, noise and experimental music from Asia and Africa and co-wrote together with Dimitri della Faille Not Your World Music: Noise In South East Asia (winner of the 2017 "Golden Nica" Prix Ars Electronica in the "Digital Musics & Sound Art" category). He has performed and given talks and workshops in 53 countries across Europe, North Africa, the Middle East, Asia and North America. Apart of his solo works, he is a member of collectives and bands such as Salims Salon, Axiome, Tasjiil Moujahed, Ambre, etc. http://syrphe.com/c-drik.html
Q&A
What I'm Usually Up To:

Playing and organising concerts, composing music, writing about music, cooking, reading books, gardening, complaining about the state of the world, playing board games.

My Favourite Food:

Taiwanese vegan, Southern Chinese vegan, Singaporean vegan (as it mixes a large variety of foods such as Chinese, Indian, Indonesian/Malay and European).

On My Bucket List:

Organising an international festival dedicated to experimental music that would include artists from all continents and subcontinents.

My Deserted Island Disc:

Nelki, by Frédéric Nogray. But I could change my mind.
Mixes by C-drík