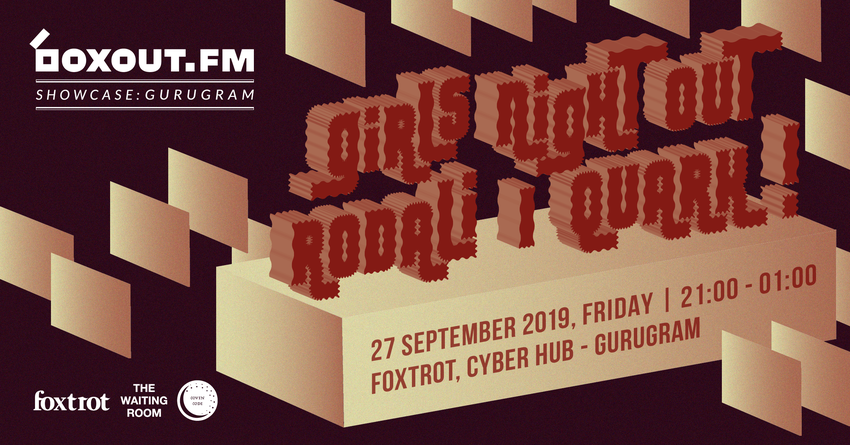 Event Details
For our second boxout.fm Showcase from Foxtrot, Gurugram; we're bringing out party-popping half-lawyer half-DJ GIRLS NIGHT OUT; digital artist with a classic selection, Rodali and the ultimate deep ended smasher, Quark!
**LIMITED CAPACITY
ENTRY VIA RSVP ONLY**
Sign up here - https://bit.ly/2k8izWY
Brand-new touring property focused on showcasing talent from all over India across many different mediums of creative expression, boxout.fm Showcase will explore new sounds, visuals, and mixed-media, and provide a platform for the wide variety of musical genres our hosts champion across their boxout.fm radio shows. These pop-ups are in partnership with local promoters.
GIRLS NIGHT OUT is the second self of Vijayant Singh, a young human rights lawyer practicing his wares in New Delhi. A resident at the infamous Flying Club parties, he plays a diverse set of sounds with a keen interest in wave, industrial, new beat, italo and left-field techno and house.
https://boxout.fm/residents/girls-night-out
Rodali is a mixed media visual artist using traditional paint and ink mediums with collage, digital art, illustration and photography. When behind the console she plays a mix of old and new disco, stripped back dub along with funk, soul and house - setting a mood that's easy to both dance and chill to.
https://boxout.fm/shows/boxout-wednesdays/122.2
Quark!, aka Uday Vir Singh, is a New Delhi- based DJ whose love for music is constrained neither by genre nor tempo. While his guest mixes for The Waiting Room & Rush Hour on Boxoutfm showcase his penchant for various types of techno and house, he's no stranger to funk, soul and boogie, and loves nothing more than to heat up the dance-floor with a groove-laden disco number.
https://boxout.fm/shows/rush-hour/014
--
boxout.fm Showcase events are a bona fide safe-space for all people. Please treat everyone around you with respect. We employ a zero-tolerance approach towards any kind of verbal/physical harassment or abuse.