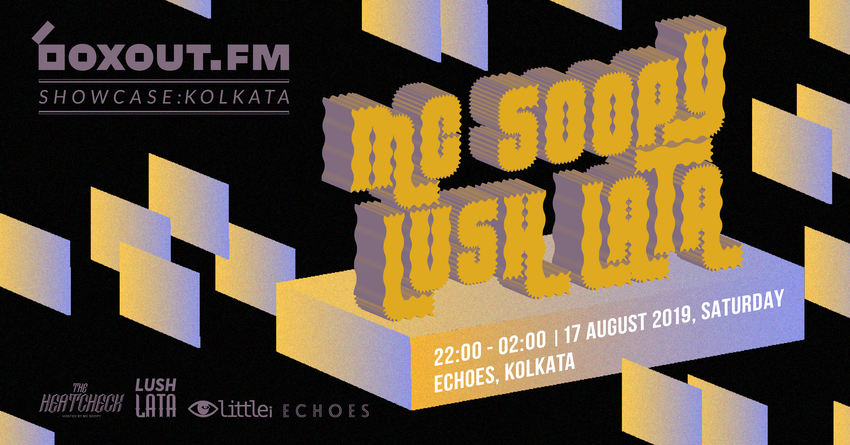 Event Details
For The second in this series, we continue with our showcase in Echoes Kolkata (1st CafeBar managed by Differently Abled Staff giving a magical dining experience) where we will have music from MC Soopy and Lush Lata, in partnership with Littlei.
Brand-new touring property focused on showcasing talent from all over India across many different mediums of creative expression, boxout.fm Showcase will explore new sounds, visuals, and mixed-media, and provide a platform for the wide variety of musical genres our hosts champion across their boxout.fm radio shows. These pop-ups are in partnership with local promoters.
---
Siddhant Roop Rai aka MC Soopy traverses the sounds of hip hop, soul, trap, house, disco, italo, techno, club tools etc and flows through a multitude of genres always staying fresh and keeping the dance floor on their toes. He is the host of 'The Heatcheck' on boxout.fm where he plays the freshest hip hop sounds from around the world.
https://boxout.fm/residents/mc-soopy
A curious mix of old school hip hop, beats, monologues and trap pack a punch with Lush Lata's set, that borrows from the notion that there is calm before a storm. Aligning this with moods that drop low only to rise high, Lush Lata places her artistic explorations in the interstices of the common shebang.
https://www.instagram.com/_lushlata_/
Littlei is a production company based in Kolkata, India. Their primary focus is promoting live music, the performing arts and innovative design while building a national creative commune that includes musicians, artists, designers, writers, actors, dancers, photographers, producers and new age visionaries. Littlei's services range from artist and performer bookings to a comprehensive event management service.
---
boxout.fm Showcase events are a bona fide safe-space for all people. Please treat everyone around you with respect. We employ a zero-tolerance approach towards any kind of verbal/physical harassment or abuse