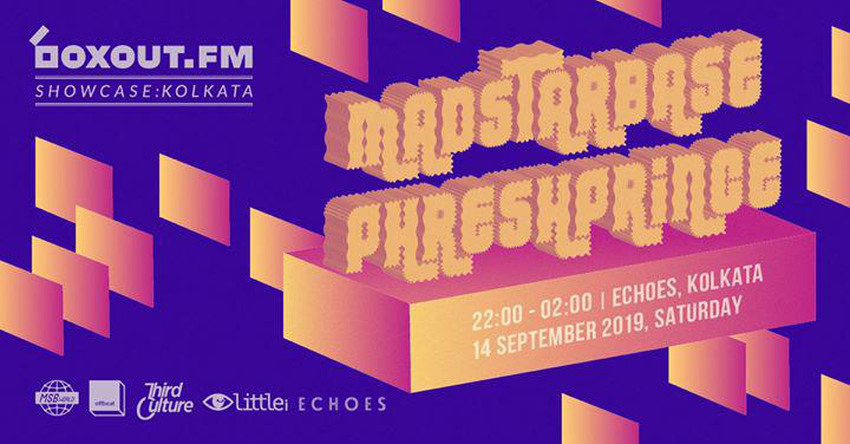 Event Details
We're back in Kolkata with boxout.fm showcase, this time presenting the ever flavorful MadStarBase, who bring their sound of Mollywood to the city of joy alongside the up and coming DJ, known for his part in various HipHop Dance crews, PhreshPrince.
Sign up - http://bit.ly/rsvp_kolkata
Brand-new touring property focused on showcasing talent from all over India across many different mediums of creative expression, boxout.fm Showcase will explore new sounds, visuals, and mixed-media, and provide a platform for the wide variety of musical genres our hosts champion across their boxout.fm radio shows. These pop-ups are in partnership with local promoters.
MadStarBase
New Delhi based production and DJ duo Ase (Anant Ahuja) and dubSekhri (Neal Sekhri) are the Indian flag bearers, producing original cuts as well as a staggering array of bootlegs and remixes. The tag-team are also resident DJs at the House ofbhane. and are known for spinning a selection of space age, future music infused with classic hip-hop, reggae and dub.
https://boxout.fm/residents/madstarbase
PhreshPrince
Tushar Bagla got into the culture as an amateur boy, HipHop/House dancer in the active society culture of Notts Uni and the dance culture of Nottingham town; got given the moniker PhreshPrince for being the only one fresh off the boat in the local dance scene. Since being back, Tushar's worked in the East / North East while associating with some of the most knowledgeable Hip-Hop heads here. And, has recently taken to playing an eclectic mix of RnB, Neo-Soul and Hip-Hop at various events across the country.
This event is in partnership with Offbeat & Littlei
Offbeat is a music collective born in the streets of Kolkata, with one simple belief - good music MUST be shared and celebrated. Known for their work with with artists from around India and the world, with a penchant for underground and independent artists.
Littlei is a production company based in Kolkata, India. Their primary focus is promoting live music, the performing arts and innovative design while building a national creative commune that includes musicians, artists, designers, writers, actors, dancers, photographers, producers and new age visionaries.
---
boxout.fm Showcase events are a bona fide safe-space for all people. Please treat everyone around you with respect. We employ a zero-tolerance approach towards any kind of verbal/physical harassment or abuse