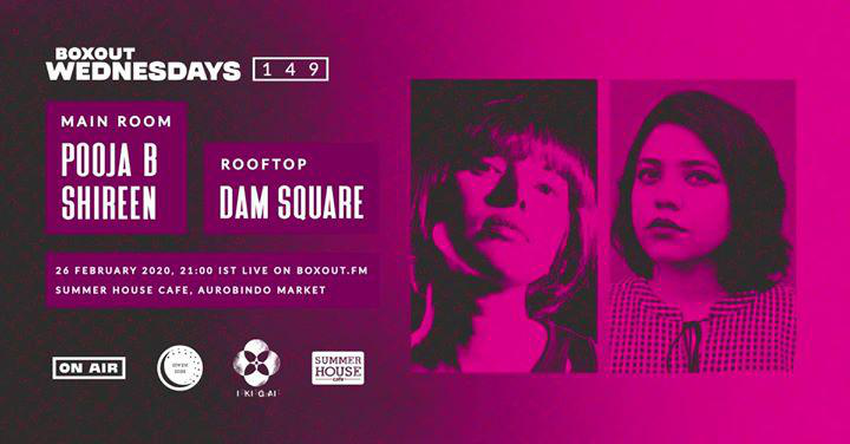 Event Details
This week at #boxoutwednesdays 149, we host Pooja B / ikigai who hails from India and is a resident at Analog Room, a weekly underground party in Dubai with a cult following. She also produces techno music, hosts radio shows & tours for DJ gigs having played at various festivals & clubs across Asia, Europe, and the Middle East. We also have Shireen who is a Delhi-based DJ, and a member of the all-femme creative collective Coven Code. She is heavily influenced by the clubbing culture of the UK and its faraway threads in the current Indian music scene, her sets draw from various dance music styles.
Rooftop Sessions from 9:00 PM - 12:00 AM featuring Dam Square
#boxoutwednesdays is the club night residency of New Delhi-based
community radio station boxout.fm, putting forward-thinking sounds
from across the country and the world on stage every week since
March 2017.
The only weekly residency in the country for alternative sounds and culture, Boxout Wednesdays is more than just a night, it is an on-going movement that helps build and serve a community that remains neglected by the mainstream. We are the voice of the underground.
Previous Boxout Wednesdays headliners include: as Flava D, Soulection, Channel One Soundsystem, Nina Las Vegas, Johnny Osbourne, Djrum, Nick Hook, Nathan Fake, Daedelus, Eclair Fifi, Madam X, Flowdan and more. All this with 400+ attendees a week.
Happy Hours from 9:00 - 11:00 PM. Buy one get one free on IMFL.
We are committed to ensuring that #boxoutwednesdays is a safe and inclusive space for all people. We have a zero-tolerance policy for any kind of verbal or physical harassment or abuse. If you ever feel uncomfortable or unsafe, please reach out to us right away.
Hosted by MC Soopy
Club rules apply. Rights of admission reserved.
Find us on Instagram:
https://www.instagram.com/boxoutwednesdays/
Follow us on Mixcloud:
https://www.mixcloud.com/BoxoutWednesdays/