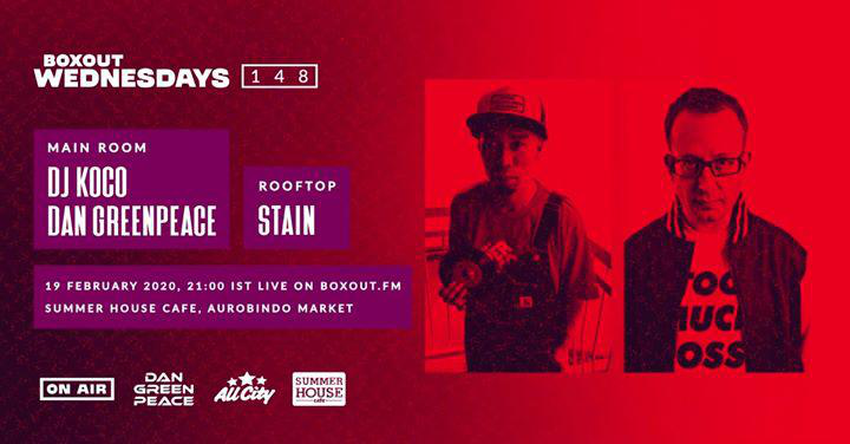 Event Details
This week at #boxoutwednesdays 148, we host DJ KOCO a.k.a. SHIMOKITA, a hip-hop DJ based in Shimokitazawa, Tokyo that knows no boundries - he's the 45 Wizard representing Japan. He began his DJ style only playing 7 inch records (45s) in 2011. With his honed skills and selections as a vinyl digger as his weapon, his mixing style has been pursued to the ultimate point. He has evolutionized the DJ play of 45s. We also have Dubai based, UK hip-hop legend, Dan Greenpeace.
Rooftop Sessions from 9:00 PM - 12:00 AM featuring Stain
#boxoutwednesdays is the club night residency of New Delhi-based
community radio station boxout.fm, putting forward-thinking sounds
from across the country and the world on stage every week since
March 2017.
The only weekly residency in the country for alternative sounds and culture, Boxout Wednesdays is more than just a night, it is an on-going movement that helps build and serve a community that remains neglected by the mainstream. We are the voice of the underground.
Previous Boxout Wednesdays headliners include: as Flava D, Soulection, Channel One Soundsystem, Nina Las Vegas, Johnny Osbourne, Djrum, Nick Hook, Nathan Fake, Daedelus, Eclair Fifi, Madam X, Flowdan and more. All this with 400+ attendees a week.
Happy Hours from 9:00 - 11:00 PM. Buy one get one free on IMFL.
We are committed to ensuring that #boxoutwednesdays is a safe and inclusive space for all people. We have a zero-tolerance policy for any kind of verbal or physical harassment or abuse. If you ever feel uncomfortable or unsafe, please reach out to us right away.
Hosted by MC Soopy
Club rules apply. Rights of admission reserved.
Find us on Instagram:
https://www.instagram.com/boxoutwednesdays/
Follow us on Mixcloud:
https://www.mixcloud.com/BoxoutWednesdays/