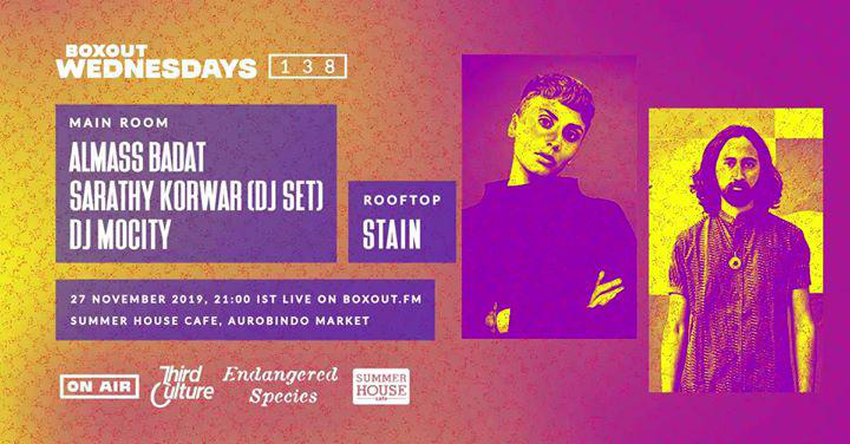 Event Details
This week at Boxout Wednesdays, we host London-based DJ & Creative Director, Almass Badat, alongside boxout.fm residents Sarathy Korwar and DJ MoCity on decks.
Rooftop Sessions from 9:00 PM - 12:00 AM featuring Stain with an extended set.
Sarathy Korwar
Sarathy Korwar is a percussionist and composer signed to Ninja Tune, lauded by the likes of Four Tet, Gilles Peterson and the Guardian. Korwar released his second studio album, More Arriving, through The Leaf Label in July 2019. With this latest release, Korwar blasts out his own vibrant, pluralistic narrative for the world to hear. This is not necessarily a record of unity; it is an honest reflection of Korwar's experience of being an Indian in Britain, and as such is a leap forward from his previous releases, incorporating rappers from Mumbai and New Delhi, spoken word and his own Indian classical and jazz performances. More Arriving is a record born of confrontation; one for our confrontational times.
https://boxout.fm/residents/sarathy-korwar
Almass Badat
Immerse yourself in a set by Almass Badat and be transported. The London-based DJ & Creative Director uses music from around the world to amplify classics and tune your ears to new sound. For her debut set in Delhi, expect a blend of HipHop, Bhangra, Grime, Reggae, Funky, House, Afrobeats & Afro House from Almass Badat.
http://www.almassbadat.com/
Boxout Wednesdays is the club night residency of New Delhi-based community radio station boxout.fm, putting forward-thinking sounds from across the country and the world on stage every week since March 2017. The only weekly residency in the country for alternative sounds and culture, Boxout Wednesdays is more than just a night, it is an on-going movement that helps build and serve a music community that remains neglected by the mainstream.
Previous Boxout Wednesdays headliners have included Flava D, Soulection, Channel One Soundsystem, Nina Las Vegas, Johnny Osbourne, Djrum, Nick Hook, Nathan Fake, Daedelus, Eclair Fifi, Madam X, Flowdan, and the 400+ attendees every week.
Happy Hours - 9:00 - 11:00 PM i.e. Buy one get one free on IMFL.
We are committed to ensuring that Boxout Wednesdays is a safe and inclusive space for all people. We have a zero-tolerance policy for any kind of verbal or physical harassment or abuse. If you ever feel uncomfortable or unsafe, please reach out to us right away.
Hosted by MC Soopy.
Club rules apply. Rights of admission reserved.
Find us on Instagram:
https://www.instagram.com/boxoutwednesdays/
Follow us on Mixcloud:
https://www.mixcloud.com/BoxoutWednesdays/