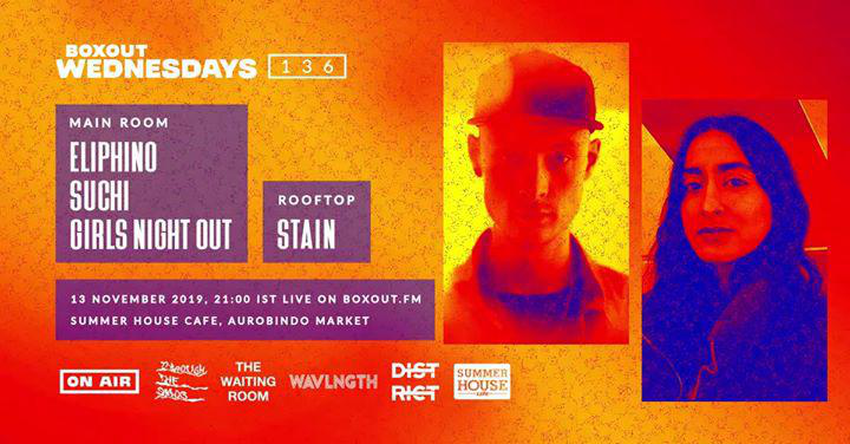 Event Details
This week at Boxout Wednesdays, we host special guest Eliphino aka Automne from London, alongside SUCHI and GIRLS NIGHT OUT.
Rooftop Sessions from 9:00 PM - 12:00 AM featuring Stain with an extended set.
Eliphino aka Automne
Born in Leeds and now based in London, Eliphino started producing and DJing from a young age. His productions incorporate elements a few different genres including house, electro, garage & hip hop. His first vinyl release came via Gilles Peterson's Brownswood Recordings and he went on to produce music for labels such as Somethinksounds, Hypercolour, and more recently with R&S sister label Meda Fury. After a stint in Berlin, he now resides back in London where he continues to expand his palette whilst touring as a DJ. You can expect to hear engaging and dynamic sets taking a range of genres and BPMs.
https://soundcloud.com/eliphino
Boxout Wednesdays is the club night residency of New Delhi-based community radio station boxout.fm, putting forward-thinking sounds from across the country and the world on stage every week since March 2017. The only weekly residency in the country for alternative sounds and culture, Boxout Wednesdays is more than just a night, it is an on-going movement that helps build and serve a music community that remains neglected by the mainstream.
Previous Boxout Wednesdays headliners have included Flava D, Soulection, Channel One Soundsystem, Nina Las Vegas, Johnny Osbourne, Djrum, Nick Hook, Nathan Fake, Daedelus, Eclair Fifi, Madam X, Flowdan, and the 400+ attendees every week.
Happy Hours - 9:00 - 11:00 PM i.e. Buy one get one free on IMFL.
We are committed to ensuring that Boxout Wednesdays is a safe and inclusive space for all people. We have a zero-tolerance policy for any kind of verbal or physical harassment or abuse. If you ever feel uncomfortable or unsafe, please reach out to us right away.
Hosted by MC Soopy.
Club rules apply. Rights of admission reserved.
Find us on Instagram:
https://www.instagram.com/boxoutwednesdays/
Follow us on Mixcloud:
https://www.mixcloud.com/BoxoutWednesdays/