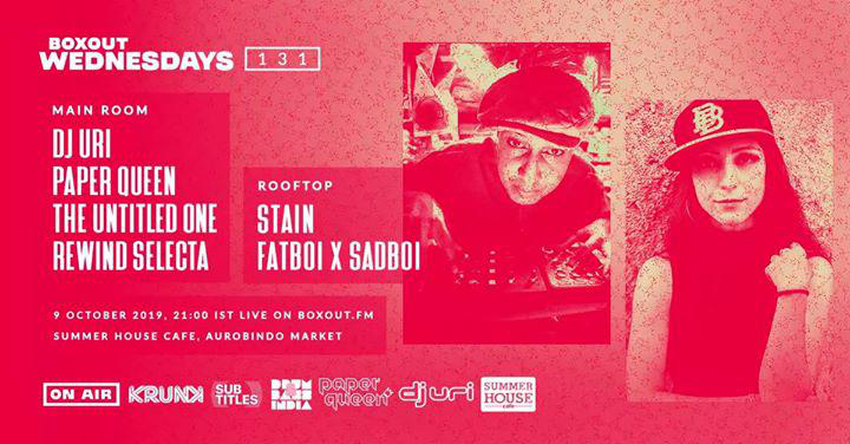 Event Details
This week at Boxout Wednesdays, we host turntable master DJ Uri, old school fresher Paper Queen, alongside drum and bass ambassadors, The Untitled One and Rewind Selecta.
This event is in association with Drum and Bass India.
Rooftop Sessions from 9:00 PM - 12:00 AM featuring fatboi x sadboi and Stain.
DJ URI has been rocking 2 Turntables since 1987. The depth of his collection and knowledge he has gained over the last 30+ years are a credit to Hip Hop culture. Musically, he fuses many genres and styles of music using Turntables, Finger Drumming & Loop Stations creating one seamless set showcasing skill levels of the highest degree.
Paper Queen has been making some serious moves in the last 24 months, playing both National & International club & festival gigs. A unique blend of Old & Nu Skool Hip Hop, Trap, Future Beats & Bass Music, a signature Paper Queen set has the right selection of music to receive mass appeal yet retain a certain street credibility.
The Untitled One is a Bangalore based Drum & Bass DJ, with an evolving musical taste within the underground bass music culture. Co-founding 'Drum and Bass India', a community that he, along with Ritu Arya, built to promote the Drum and Bass genre in the country & support homegrown artists and events.
Rewind Selecta aka Hemant Chotani is the Sub Heavy artist from Delhi, who has been DJing over a decade and has a huge passion for genres he mixes. Tight mixes of high technical ability are composed of a vast selection of deep and jungle beats, having played with top underground artists like Calyx and Teebee.
Boxout Wednesdays is the club night residency of New Delhi-based community radio station boxout.fm, putting forward-thinking sounds from across the country and the world on stage every week since March 2017. The only weekly residency in the country for alternative sounds and culture, Boxout Wednesdays is more than just a night, it is an on-going movement that helps build and serve a music community that remains neglected by the mainstream.
Previous Boxout Wednesdays headliners have included Flava D, Soulection, Channel One Soundsystem, Nina Las Vegas, Johnny Osbourne, Djrum, Nick Hook, Nathan Fake, Daedelus, Eclair Fifi, Madam X, Flowdan, and the 400+ attendees every week.
Happy Hours - 9:00 - 11:00 PM i.e. Buy one get one free on IMFL.
We are committed to ensuring that #boxoutwednesdays is a safe and inclusive space for all people. We have a zero-tolerance policy for any kind of verbal or physical harassment or abuse. If you ever feel uncomfortable or unsafe, please reach out to us right away.
Hosted by MC Soopy
Club rules apply. Rights of admission reserved.
Find us on Instagram:
https://www.instagram.com/boxoutwednesdays/
Follow us on Mixcloud:
https://www.mixcloud.com/BoxoutWednesdays/