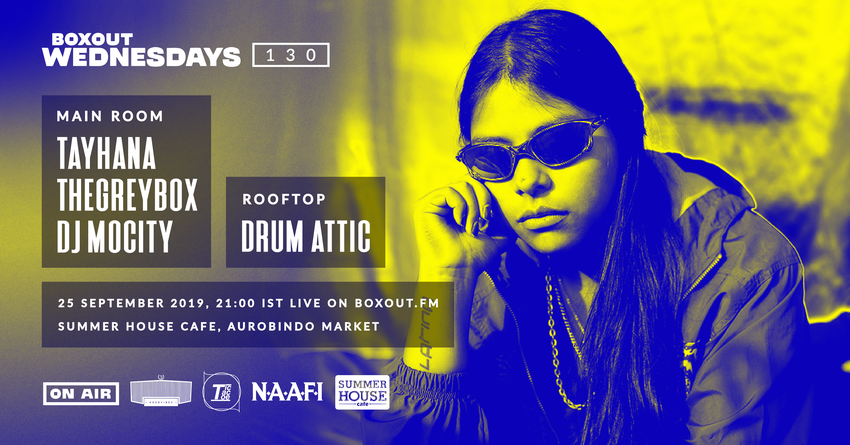 Event Details
This week at Boxout Wednesdays, we host special guest Tayhana from Mexico, alongside boxout.fm residents thegreybox and DJ MoCity.
Tayhana is an Argentinian DJ and producer currently based in Mexico City, affiliated with both Club Hiedrah de Baile and NAAFI crews. Her music is an offbeat combination of sounds that comprise pounding beats from around the globe, with rough and daring textures. Her sets include the most exciting modern Latin America music, from reggaeton through cumbia to carnival sounds, all put in a context of contemporary club.
Producer and selector alike, thegreybox brings with him the amalgamation of the classic and the edgy. With a collection curated over the years, there is always new music, new feelings and new emotions he brings with his DJ sets. They can start as hip-hop, trap and take you through House, Dance, Club but the vibe is paramount, making every set worth dancing to. He is also the host of 'HOODVIBES' on boxout.fm where he plays Jazz, Soul and Hip-Hop.
Rooftop Sessions from 9:00 PM - 12:00 AM featuring Drum Attic with an extended set.
Boxout Wednesdays is the club night residency of New Delhi-based community radio station boxout.fm, putting forward-thinking sounds from across the country and the world on stage every week since March 2017.
The only weekly residency in the country for alternative sounds and culture, Boxout Wednesdays is more than just a night, it is an on-going movement that helps build and serve a community that remains neglected by the mainstream.
Previous Boxout Wednesdays headliners include: as Flava D, Soulection, Channel One Soundsystem, Nina Las Vegas, Johnny Osbourne, Djrum, Nick Hook, Nathan Fake, Daedelus, Eclair Fifi, Madam X, Flowdan and more. All this with 400+ attendees a week.
Happy Hours from 9:00 - 11:00 PM. Buy one get one free on IMFL.
We are committed to ensuring that #boxoutwednesdays is a safe and inclusive space for all people. We have a zero-tolerance policy for any kind of verbal or physical harassment or abuse. If you ever feel uncomfortable or unsafe, please reach out to us right away.
Hosted by MC Soopy