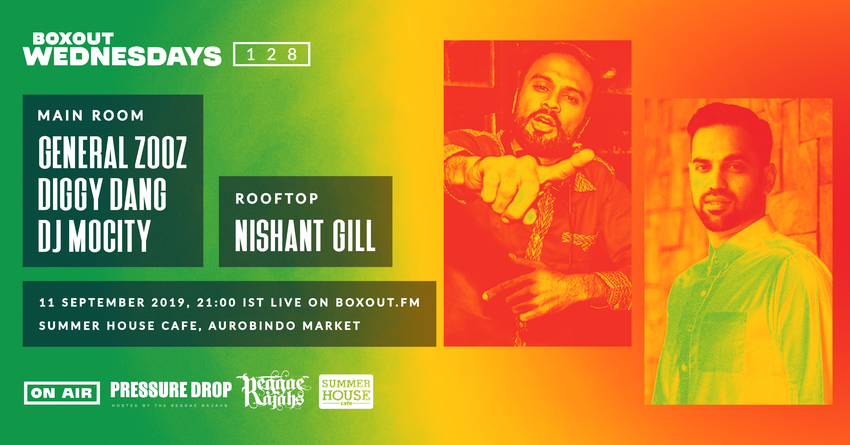 Event Details
This week at Boxout Wednesdays, we host General Zooz alongside Diggy Dang and DJ MoCity for a special dancehall themed night. This one's for all the dancers who love moving to some reggae infused dance tunes!
General Zooz is a stage entertainer who is equally comfortable as an MC or DJ. While reggae and dancehall remain his musical weapons of choice, Zooz's foundations were made strong by an early love of hip hop. His immersion into Jamaican music and culture has also led Zooz on a journey to include soca, afrobeats, jungle and some heavy bass elements into his sets. Inspired by the incredible energy of the Caribbean, General Zooz pays special attention to entertainment value and audience interaction in his performances.
As a singer, guitarist and DJ, Diggy Dang has been promoting the message of reggae music in India for the past ten years. Aside from being a member of the Reggae Rajahs crew, he is also co-founder of The Ska Vengers, Goa Sunsplash (an international reggae festival) and 10,000 Lions Sound system. His latest project, Diggy Dang & The Fire Starters is reggae, dub, dancehall band which has been playing numerous venues across the country. Diggy also hosts a weekly radio show on boxout.fm called Pressure Drop that focuses on reggae, dancehall and afrobeat.
.
Rooftop Sessions from 9:00 PM - 12:00 AM featuring Nishant Gill with an extended set.
Boxout Wednesdays is the club night residency of New Delhi-based community radio station boxout.fm, putting forward-thinking sounds from across the country and the world on stage every week since March 2017.
The only weekly residency in the country for alternative sounds and culture, Boxout Wednesdays is more than just a night, it is an on-going movement that helps build and serve a community that remains neglected by the mainstream.
Previous Boxout Wednesdays headliners include: as Flava D, Soulection, Channel One Soundsystem, Nina Las Vegas, Johnny Osbourne, Djrum, Nick Hook, Nathan Fake, Daedelus, Eclair Fifi, Madam X, Flowdan and more. All this with 400+ attendees a week.
Happy Hours from 9:00 - 11:00 PM. Buy one get one free on IMFL.
We are committed to ensuring that #boxoutwednesdays is a safe and inclusive space for all people. We have a zero-tolerance policy for any kind of verbal or physical harassment or abuse. If you ever feel uncomfortable or unsafe, please reach out to us right away.
Hosted by MC Soopy